Lomanco Turbines Set 2x TEB14 + Splitter + EVL1400
Set of 2 turbines + splitter + auxiliary electric ventilator. EVL ventilators are used to guarantee or increase the turbine's immediate output during adverse weather conditions or poor current performance. The ventilators are not designed for continuous operation, instead they serve to intensify ventilation. Typical uses for this set are multi storey buildings (7 plus storeys). The set contains 2 of the most powerful Lomanco TEB 14" turbines made of aluminium, a splitter and an additional electric ventilator. The splitter is made of galvanized steel.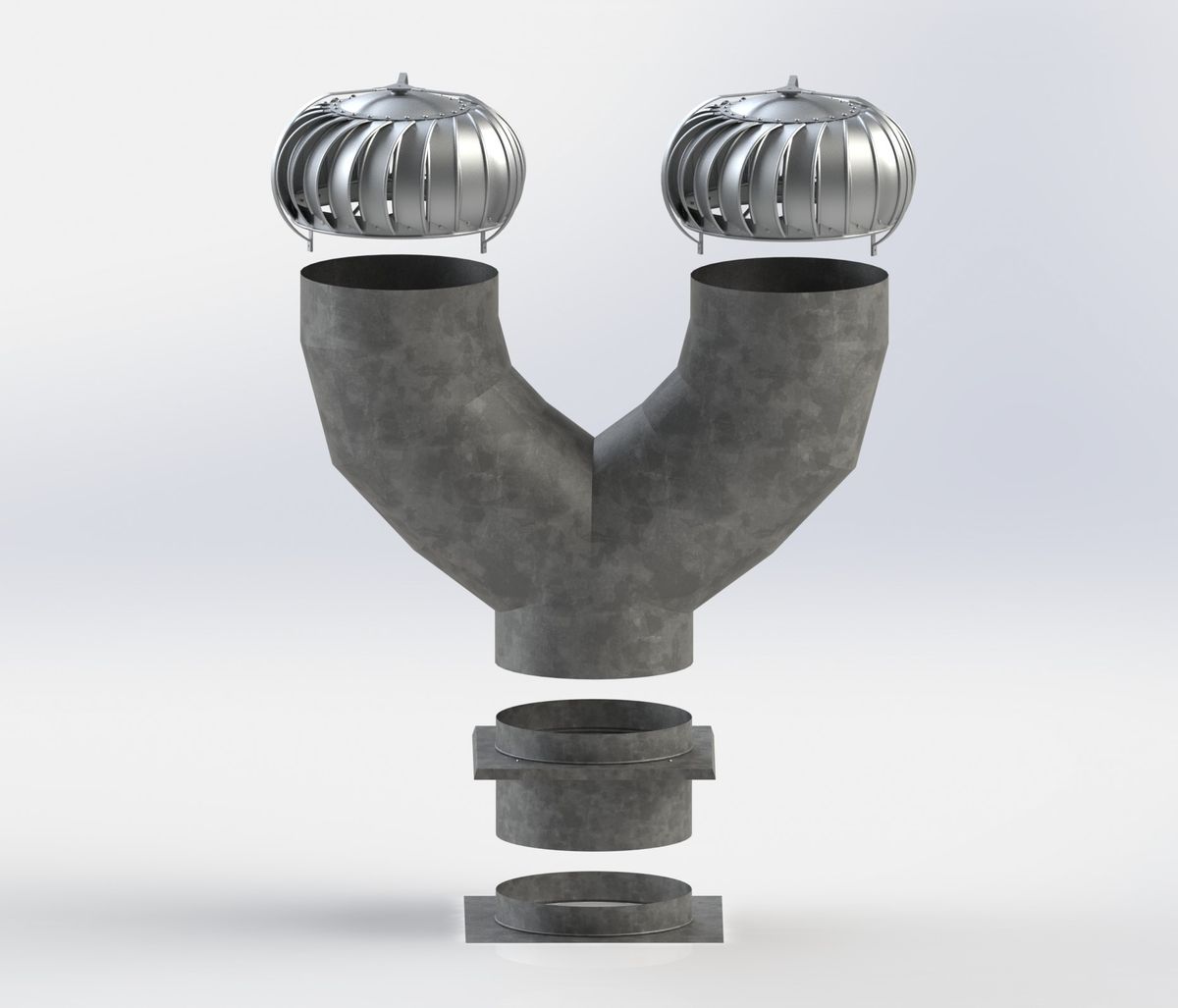 Features & Benefits
System combining an auxiliary electric ventilator and an externally braced BEB 14" turbine
High quality electric ventilator EBM Papst
Supplied with electrical box for easy installation
Low electricity consumption
Volumetric flow rate 1400 m3/h
Manual switching
Optional sensor connectivity (humidity, CO2, PIR) or timer
Popular solution for apartment buildings
Dimensions
Max. ambient temp.
-30 to +50 °C
Sound pressure level
58 dB(A)
In the box
2x reinforced tubrine TEB14
Splitter
Electric ventilator
Square base
Screws
Installation Guide
Our tip
Using 2 turbines fitted on one outlet increases the ventilation rate.
Ventilation turbines from Lomanco are used for ventilation shafts that ventilate bathrooms, WC, kitchen extractors etc. in apartment houses, blocks of flats and other large buildings.
Every apartment building must have a high-quality solution for ventilating bathrooms, lavatories and kitchens. Ventilation is solved by a ventilation shaft. Lomanco turbines are a perfect substitute for electric ventilators – low acquisition costs and zero operating costs ensure high savings. Use of Lomanco turbines ensures a true draft in the shaft and prevents the odours from individual apartments mixing. We recommend combining Lomanco turbines and small axial ventilators. To regulate the ventilation it is best to use gratings that allow you to close or open the room outputs.
Price list
Lomanco Price List
File size: 851.40 KB
Want to place an order?
Need help?
Installation
Installation Guide
Installation Guide TIB and TEB turbine
File size: 1.41 MB
Documents for download
Installation Guide BIB and BEB turbine
File size: 2.84 MB
Datasheet - EVL1400
File size: 307.52 KB
RIBA Approved Presentation - Wind Powered Ventilation
File size: 2.04 MB